So, I've been asked several times to explain the reasoning behind my move to Utah. For some reason, I never really told anyone why I made my decision. I just kinda told people I was moving, and that was that. So.. here are the actual thoughts that crossed my mind when deciding.
I think you can all guess the main reason behind my move.. this guy.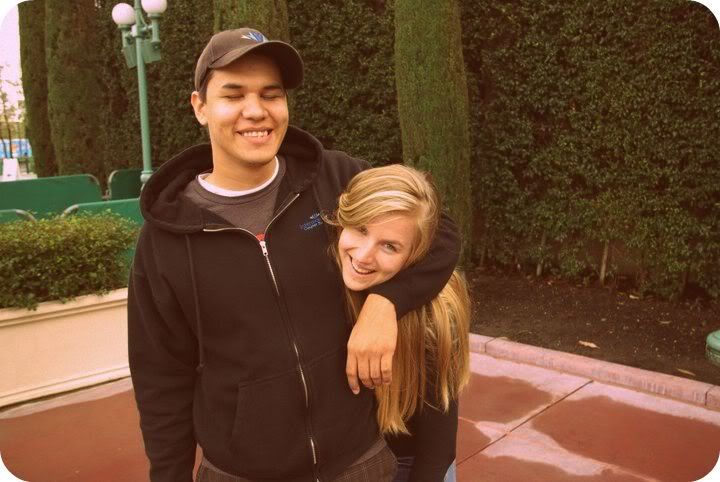 Yes, I moved for a guy. But it's more like.. I moved for the guy, so you can understand that, right? It was time to quit the long-distance part of our relationship. It took a bit of a leap of faith, but I'm glad I did it. I've never been happier.
There are other reasons behind me moving, though.
For instance, schooling. I was going nowhere fast in my schooling in California. I needed a change of pace and of schools, and a fresh start. The college here gives a perfect opportunity for just that.
A change of scenery. I didn't hate where I lived, but I didn't like it. It's a very ugly place, with a lot of ugly people in it. Crime, gangs.. who wants to be around that?
Work. I realllly didn't like my job. Working with gossipy, menopausal, middle-aged women is not all it's cracked up to be. Not to mention the high schoolers. Going to work everyday was something I dreaded. It left me cranky, sad and tired every single day. The day I put in my two weeks notice, I was already happier. Will I get another job that pays as well? Probably not.. but I'm happier.
Leaving the nest. I didn't mind living with my parents still, at 21. I'm not sure a whole lot of people would. They bought me food, I had a place to sleep, I was well off. It was just time for me to grow up. I knew that if I stayed there, I would be living at home til my mid 20s, if not later. Getting nowhere with school, nowhere with work, nowhere with my life.
In a nutshell, I moved to take control of my life. I felt a little bit desperate for freedom. I really did think over the benefits of me moving. I'm much happier here than I ever could have been in California.