We spotted the Wienermobile the other day. Apparently all I needed to complete my childhood is a big wiener.. ha. Ha. Ha.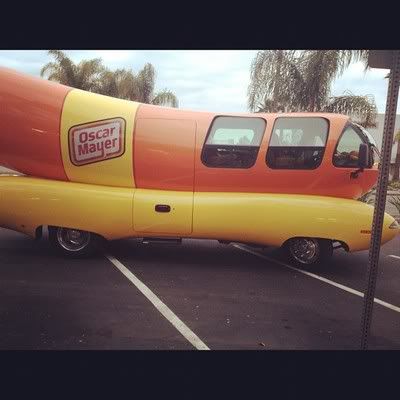 ---

Last night I was sitting on my bed crying like a baby and I wasn't completely sure as to why. I just suddenly became overwhelmed. I think that's the best word for it.
It's partly PMS. I know this. I go to bed a completely rational and level headed person, but wake up a complete nutcase. Things that usually roll off my shoulders, make me cry. And it always starts off as one little thing and avalanches into a world of problems. I get sad about a person not talking to me, then realize that I have no one to talk to about my 'problems'. Then I suddenly have no friends, and my family doesn't like me. I wish I could say I was exaggerating. But I was really sitting there thinking about how no one, not even the people in my family, likes me.
Obviously my biggest problem is that I'm a total drama queen.
I can sit here the next day and realize that I was blowing things out of proportion, but while it's happening, I can't help but feel total desperation. I just end up crying until I have a headache, then laying down to watch a documentary until it lulls me to sleep.

So it goes. I know the cycle will repeat itself every month as it always does. I just hope I'm not the only one who turns into a whacked out nightmare of a person once a month before the dreaded period.