Well really, if you had the chance to go to Disneyland twice in as many weeks, I bet you would too.
Except a nameless blog friend of mine who doesn't even like Disneyland.
You'll be disappointed to know that this is the only picture I've taken in a few days, and it's of a hot dog. Who takes pictures of hot dogs? I do, so deal with it.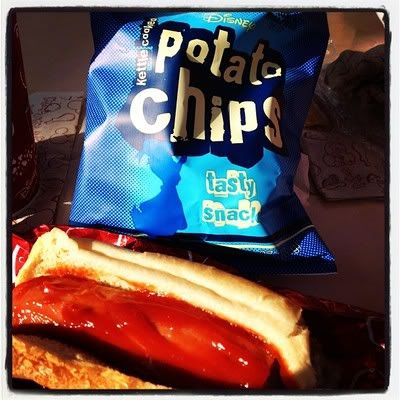 As fun as Disneyland is, it tends to bring out the most inconsiderate side of people. I was touched, shoved, and elbowed by a few too many people. Isn't it just common courtesy to not invade someone's little bubble? And to not shove your way past them in line? And not continually elbow them in the back? And not wiggle your way in front of them to get a better view? More than once? Yeah? All of those things happened to me. I was getting a serious attitude with these people.
That's my only qualm with the happiest place on Earth. It's not so happy when you're pondering the best way to end someone's existence. (Kidding. Kinda.)