My Sunday consisted of about two things. Painting my nails and going to see Hunger Games.
Can I just say.. (of course I can, it's my blog) boys do not appreciate nail art. I got in the car and excitedly showed boyfriend my painted nails and he says "Well, you missed about 8 fingers there.." then laughed at my dejected face and started driving.
Lucky for him.. he was paying for the popcorn, so I couldn't kick him out of the car. Duh.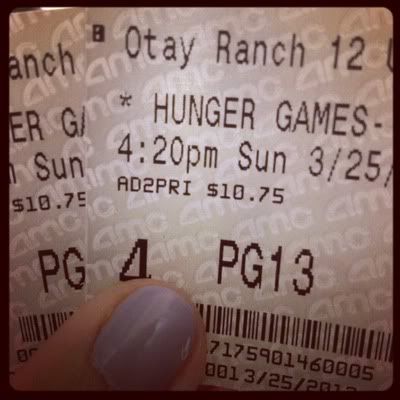 We meandered over to the theater, purchased our tickets and got some food at In N Out. We got to our theater and found some primo seats, and I stared at the screen for about 35 minutes before the previews started. After a ridiculous amount of previews, it finally started. Guuuuuuys. Loved it. Even with boyfriend sitting next to me snorting at many a scene, I loved it. He may not have, but I at least got him to admit that he didn't hate it. So that's a success. Anyway. Go see it!