I'll tell you guys a secret. I started a private blog, and that's why this one has been neglected. It's nothing against you guys, it's just hard to post about very personal things sometimes.. but I still needed a way to vent about them.
- Today the boyfriend and I went to eat at Kneaders, which has delicious sandwiches. I mean.. they're real dang good. No wonder people were so excited that it was coming to St. George.
- We (and by we I mean... I) also got some cupcakes from The Sweet Tooth Fairy..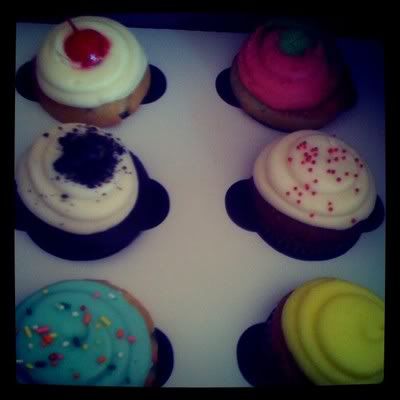 Don't worry, I shared.
- Sometimes I think this town would be perfect if it had a few more things: 1. A Wienershnitzel. Don't hate, they have the most delicious chili cheese fries on this planet. 2. A decent mall. With options other than Hollister and Aeropostale. And with a Victoria's Secret. 3. A Super Target.
- Boyfriend leaves in just under a month and a half. It sinks in a little more each day that soon, I won't be seeing him for a long time.
-I'm going to miss him. :-(
- I got some ace advice the other day, while I was complaining about my job and not getting enough hours. "Apply for other places." "But I won't get anything." "How do you know if you don't try? Just try." Simple, right? Why didn't I think of that..
- I have concluded that French tourists are my least favorite. I sure love me some friendly German's though. Also, I sometimes think that this job is turning me into a negative person. I don't want that to happen. I always want people to think I'm a happy person.
- I recently got in contact with the missionary who baptized me, and he told me that when someone asked him to tell them a story of someone he baptized, he told them about me. It basically made my heart soar, then drop.. because I think I'm a disappointing convert. I'm a work in progress though. I'm definitely not perfect, and I do struggle a lot.. but I know deep down that what I believe is true. I just need to work on becoming better at showing it, I suppose.
- Life really is beautiful. Not every day, but I love how the good always makes the bad go away in the blink of an eye. I think that's the most beautiful thing about life.
- I miss my dog so much.