I don't know if I mentioned it before on my blog, but this year I got the chance to go to Comic Con for two days... guys.
Guys, guys, guys.
It was awesome.
It was crowded up the butt:
And my calves hurt from having to shuffle everywhere and not being able to take complete steps, but it was so awesome.
We have two 'swag bags' (I loathe the word swag) full of free goodies from all the different booths. Mind you, these bags are more than half my height and three times as wide as me.
We met some truly amazing people, and some weirdos. And some Shreks.
We got a chance to meet Claudio Sanchez (of Coheed and Cambria, also writes comics, just announced that he has a movie in the works!) And he was super nice. Only Ryan got a picture with him, but that's ok.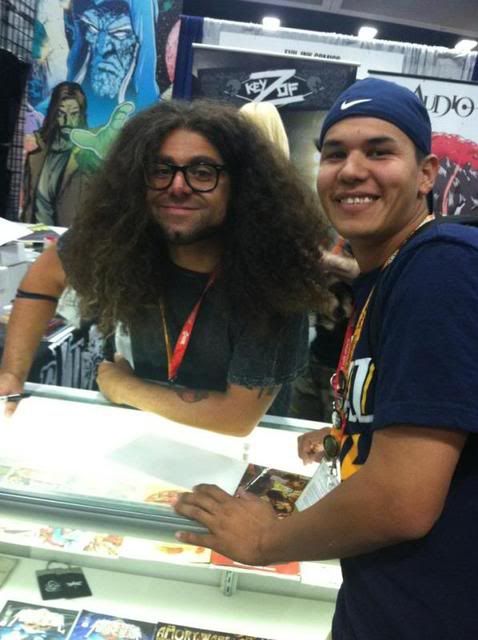 We also met Giorgio Tsoukalis. THIS GUY:
Yes, now you know who I'm talking about. Guys, he looks like a total toolbag in person. He was wearing a scarf and bracelets. But he was soooo nice.
Ryan got to meet a couple of artists whose work he admires, Dustin Nguyen and Christopher Shy. They were both also SUPER nice.
And we got to meet the creators of the Mr Toast comics. The artist drew us little caricatures, and once again.. he was just SO nice.
We completely failed at getting into the Bones and Vampire Diaries panels, which are the ones I wanted to see. We then failed to get tickets for the Bones, Vampire Diaries and Hunger Games autograph signing sessions. Then we failed to get into the panels that Ryan wanted. But we're okay with it, and took it all as a learning experience for next year. Because yes.. we ARE going next year.
To make up for missing the panels, we got in line to get autographs from Marie Lu (author of Legend). What we didn't know, is that she was giving away free copies of her book, and the first bunch of us got a free advanced uncorrected version of the sequel, Prodigy, set to come out in January 2013!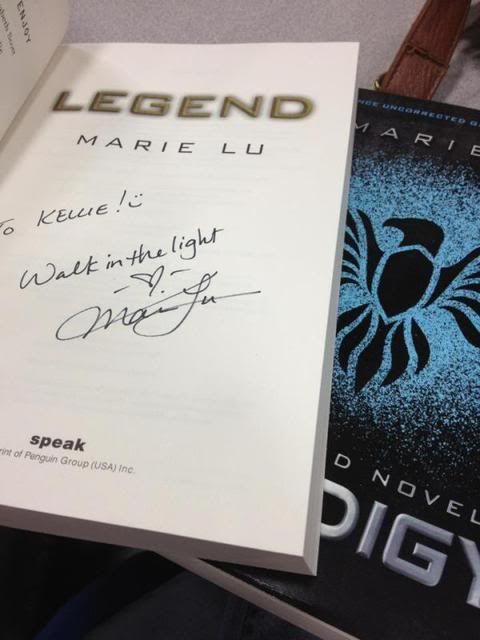 We got to see the original sets used for the filming of Frankenweenie (which is a stop motion film.)
Also the new Iron Man suit, all of the Batmobiles, and so much other fun stuff.