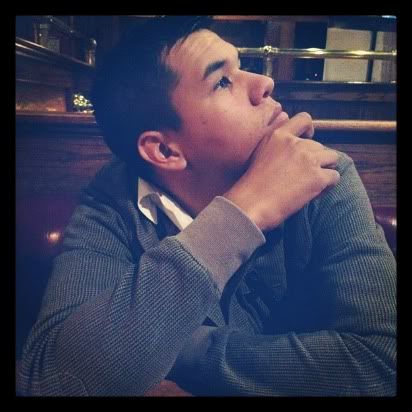 These pictures were taken about a week and a half ago when boyfriend and I went on a little date.
The night consisted of crappy TGI Friday's food and me finding out I had been wearing my shirt backwards all day.
Netflix kind of sucks lately. I attempted watching at least 5 different movies today and ended up getting bored halfway through all of them. I think I'd rather rent from Redbox every now and then.
I've been seriously clashing with a coworker lately and it's making me dread work. I want to punch the stupid mouth breather every time I see him. I think very mean thoughts toward him, which I won't type out here. Point is, it makes work no fun.
I also think I should point out that I started a load of laundry but forgot to leave out a pair of pajama bottoms. I can't bring myself to wear jeans past 10pm, so I am stuck darting around the (empty) house with a towel wrapped around my bottom half. Feel free to be embarrassed for me.