1.
Got somethin to say?
This is my blog. I am a Mormon. Don't like it? Don't visit my blog. Don't leave me comments trying to 'save' me. I don't need to be saved. I need you to leave me and my beliefs alone. Especially if you don't know the first
true
thing about it. If you read up on
what we

really

believe
and still want to discuss it? Feel free.
2.
Mockingjay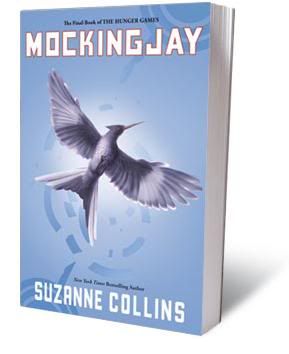 Mind. Blown. Can we discuss? First off, if you have not read this book yet, you probably shouldn't read much further. You should also go acquaint yourself with the wonder that is the Hunger Games trilogy. It kicks the Twilight series' trash. No joke. Now, if you've finished, feel free to read on and discuss with me. If not, get reading!!
Spoilers
The "real or not real?" thing..
genius
. I love how it played into Peeta coming back to Katniss, and finally Katniss realizing the he really is the right one for her.
Speaking of the 'right one'.. Gale. Seriously? How many of you are Team Gale? Now take that hand you raised and smack yourself in the head. I liked Gale well enough in the first two books, but my like pretty much dissolved in Mockingjay. I don't like how quick he was to get angry at Katniss (even if she did the same back). I also didn't like how heartless he appeared to be most of the time. He wanted to kill that mountain full of people. He may have helped design what led to the death of Katniss' sister. I feel like he didn't really care for anyone other than his family and Katniss. And in the end, he ditched Katniss when he found out she would never be his.
Which brings me to Peeta. Sweet, sweet Peeta.. bake my bread.
He makes me swoon, and sigh, and boy do I wish he had more appearances in this book. I'm okay with how S.C. played his role though. He came back, rescued, wanting to kill Katniss. He was programmed to hate her. He tried to kill her. He came back though. With the hope of Delly, of the "Real or not real" game, and with the help of Katniss.. (The hug, the kiss, oh my!) he came back in the end. To what will forever be my favorite line of fiction..
"You love me. Real or not real?"
"Real."
As for Coin, did any of you think she was totally sketchy sketch from the start? She didn't appear to like Katniss at all, which was shady. And she seemed to put on an act. I'm glad Katniss shot her, because I'm pretty sure she may have turned into another President Snow. She had no problem killing people to get her way, and suggesting a final Hunger Games.. so wrong.
My heart broke so many times in this final installment. For Katniss. How she felt responsible for everyone's deaths. Her nightmares. I cried when she sang The Hanging Tree.. and got complete silence just like her father used to get. I cried when she was reunited with Peeta, and he tried to kill her. When her dear sister Prim died. And when Peeta finally came back to her.. and she finally made her choice.
I loved.. loved.. LOVED this book. I hope you did too. Discuss!