The boyfriend and I went to Disneyland on Sunday.. and it was pretty much perfect.
I mean, I didn't get shoved by anyone in Sleeping Beauty's castle and no one cut in front of me during Haunted Mansion or Matterhorn, so I'd definitely call that a success.
As nice as it was, we called it a day after about 4 hours. We got to go on the rides we wanted to and see everything. Plus we had to go a little out of the way to get to dinner.. at Vince's
Oh the famous Vince's. It's famous in my mind, at least. The very best spaghetti you'll ever have, unless you find somewhere better. Then whatever.
We feasted and it was delicious.
After that, we headed towards L.A. to do some drive by sightseeing. We stopped at the Linda Vista Hospital, which is famous for being haunted. This one was at my request. It was probably not a good idea to go at night, we kept the doors locked and parked for a couple seconds so I could take it in.. then drove off.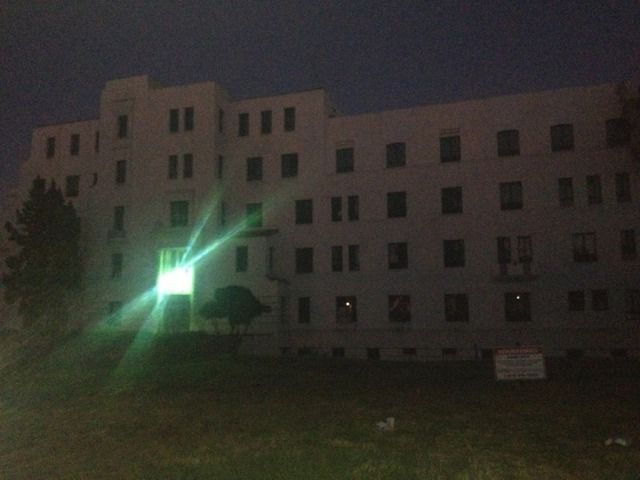 (This picture is brought to you in High Definition. You're welcome folks.)
For most of the drive, it felt like we were in a foreign country and it solidified my dislike for Los Angeles. Sorry if you live there.. and I mean that like.. seriously, I'm sorry that you live there.
I just don't like it.
After passing through a lot of sketchy neighborhoods and a few busy streets (Hollywood? Sunset? Vine? I don't know.) We started to head out of town, or so I thought.
I wasn't paying much attention when I heard my boyfriend say "Yeah! We're in Compton!"
And then I was paying attention.
Guys, you may not know this but I have this irrational fear of being KILLED. He drove us straight through Compton at 10:30 p.m. Yes, we did pass by a couple cop cars parked on the street, and one of them totally had his gun out. However, we survived.
Barely.
Then
he really took me home. And that was our date day.