I'll admit that the main reason I haven't been blogging is because I really hate uploading and resizing pictures. Sometimes I want to just leave them all really big and obnoxious but I like you guys, so I don't.
So go figure that my first post in weeks has a ton of pictures, right? Sure.
1+2= Boyfriend and I have been to Disneyland a few times since my absence. The last time, we went to check out the new Cars Land. Disney seriously outdid themselves with this one. California Adventure is like an entirely new park, and I was 100% impressed. Thanks to a kind stranger who gave us his fastpass tickets, (seriously, how lucky are we? Fastpass tickets were gone by 8:30 a.m.. 30 minutes after the park opens! And this guy just handed us his.) we got to ride Radiator Springs Racers after just a 50 minute wait, instead of the 3 hour regular line wait. It's fun and beautiful, and I can't wait to go back and experience more of it!
1. The view from my room. It's pretty cool if you like looking at roofs.
2. Weekly forecast. It's pretty cool if you like perfect weather. I'm pretty cool for repeating myself.
1. I may or may not have bought a pint of sorbet and ate it for lunch at work. I totally did.
2. There's a story behind my food picture. 'Cause really, I don't usually take pictures of food. We decided to dine at Phil's BBQ, which is pretty much ridiculously popular.. Picture a Cafe Rio line during lunch time, amplified by about 12. We waited two. Hours. TWO. By the time we got to the front of the line, I was ready to eat boyfriend's head for suggesting we eat here. Luckily it was worth it.. but what wouldn't taste good after a two hour wait on an empty stomach?
1. You may think that's a cute, cuddly kitten.. but he's a monster. Ever bring home a rotisserie chicken while a cat's around? Bad idea, as evidenced by the claw marks on my leg. He was trying to climb up my body just to get some chicken. We aren't speaking right now.
2. I take self portraits when I'm bored. And sometimes my hand becomes a monster trying to eat the camera shot.
1. Don't even act like we aren't the two coolest people you know.
2. That is what I look like when my hair decides not to be an unruly beast and look good. I was shocked.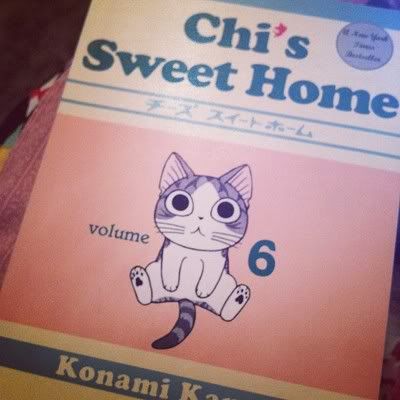 - This is a book I decided to read. A graphic novel, I mean. It's about a cat named Chi, and his antics. And it's the best book ever.