Today has seriously been.. a day. Shocking?
I woke up less than happy, but made the decision to be happy anyway. It has worked thus far, but I am currently struggling with it. I had a realization today, and it has settled me. I know that's vague.. let's just say this.
I have realized that I am too young and immature to be thinking about a certain thing. I feel like the timing is wrong for it, and will be wrong for a while longer. There are things I need to focus on more, first.. like building my faith. Growing into a more patient, calm person.. and more understanding. I'm not going to lie, I had this realization at work.. random, right? But as soon as it ran through my head I literally felt like someone hugged me and told me everything will be alright.
Speaking of work, I love the people I work with. Most of the time. For example, it is obviously coming to the end of the school year. The school decided to give all of the staff (including us kitchen staff) a free yearbook. We were all shocked, but pleased, seeing as yearbooks are generally very expensive. Turns out, the students have to pay $90 for them, and many just can't afford it. So a couple of us have decided to give ours to students who can't afford it. Honestly, it makes me sad that the school just gave away so many yearbooks to the staff- I mean come on. I glanced through mine and it has since been sitting on my bookshelf. I probably never would have looked in it again. Now at least someone can have it who will enjoy looking through it, and actually have memories of it.
Also. I saw this today: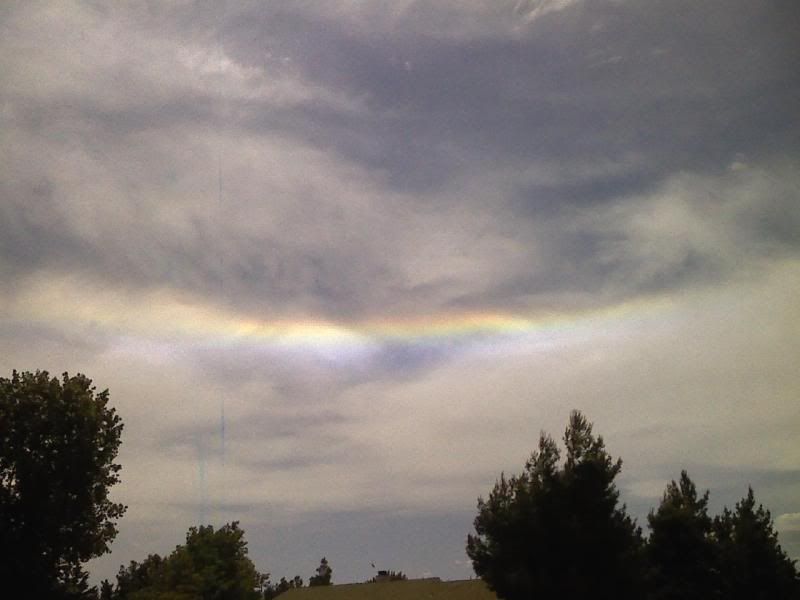 I smiled big. How often do you see a random streak of rainbow in the sky?
I also made a decision today, that I need to make a trip. I need to travel somewhere, maybe by myself. I don't know where or when, but I am going to do it. Maybe I will re-visit Washington. That way, I can stay with my brother and sister in law, and see my niece. Maybe I'll do the same in Mississippi, or South Carolina, with my other brothers. Maybe I'll go out of the country.. how awesome would that be? I just think I need a big adventure in my life.